LAVAL 1-800-361-0338
Lévis 1-866-835-5335
News
Donation of clothes at Accueil Bonneau
2022-07-25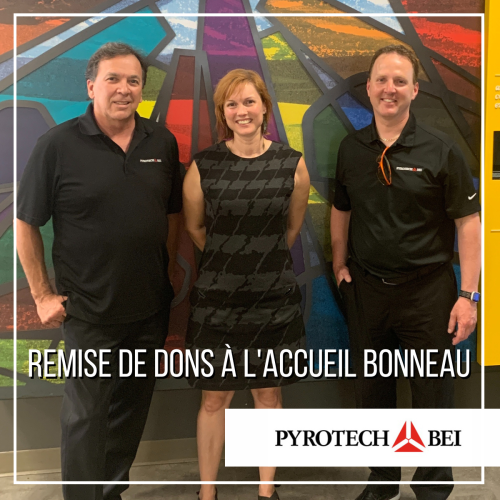 Like every year, Pyrotech BEI donated clothing (jeans, stockings and boxers) to the Accueil Bonneau in order to meet the incessant and growing demand from users of this centre.
Mr. Gilles Corriveau and Mr. Christian Charest had the privilege of meeting Ms. Daphné Mailloux-Rousseau, Director of the Accueil Bonneau Foundation, a dynamic woman who is passionate about her profession and her mission. The latter explained to them that their mandate was to invite homeless people to accept their services in order to regain control, restructure, restore their confidence and cure their various traumas/addictions or mental illnesses.
Did you know that :
The centre offers more than 132 accommodations for its users where they re-learn to live under one roof.
In 2023, Accueil Bonneau will oversee the construction of a new establishment (not far from the Old Port of Montreal) with 114 units to increase their reception capacity and the social and overall reintegration of its users;
Among the 500 people who go there to eat daily, about 60% come there because their income is not enough to pay the rent in addition to the groceries, and leave with a meal to eat at their accommodation;
Reception users have access to various medical services (podiatrist, chiropractor, dentist, optometrist, etc.), as well as a financial planning/trust service for their limited budget (preparation of tax reports, budget, etc.);
More than 10% of the people welcomed are women!
Pyrotech BEI is proud to support the work of Accueil Bonneau year after year.